An Interview with Aris Nadirian
Aris has sung with Swansea City Opera for several years and is a favourite with audiences everywhere. Read more about his fascinating journey from Iran and his passion for opera.
Interview with Aris Nadirian who sings the role of Figaro in The Marriage of Figaro.
Aris why did you decide to make a life in theatre and music?.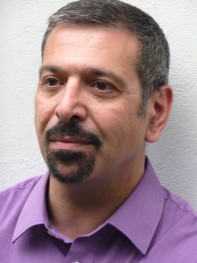 As a nine-year-old child I used to organise theatrical performances where I was performing with two of my best friends in our house. We used to sell tickets to the children in our neighbourhood to cover our costs (costumes, decorations…) I remember I used to think how amazing it would be if we could sing the words instead of merely reciting them, and later on we started to do exactly that. I suppose that was my  "operatic" awakening call! And I found the combination of theatre and music fascinating.
The very first opera that I listened to was an Armenian opera called Anoush that became an obsession of mine. Incidentally, I have recently produced and performed this opera in London with the involvement of the local Armenian community.
What was music like in Iran and why did you decide to come to England?
Growing up in Isphahan, two hundred miles south of Tehran, there was not much happening in terms of classical European education and performances, but I had my private piano lessons. I used to play organ in the Armenian churches and I was involved with church and community choirs. Later on I used to travel monthly to Tehran for piano and singing lessons. Tehran then, had its conservatory of music, concert halls, an opera house and a very active classical music scene. After 1979's revolution, everything came to an abrupt end!  Returning from three years of national service with the Army, I realised that unless I wanted to teach music there was no possibility in choosing music as a profession in lran. Going abroad was the only option. It was the high standard of British academic education, together with other family and personal reasons that made it possible for me to travel here to the UK and study.
What is you favourite opera and why?
My favorite opera must be Richard Strauss's Salome. Although the music of Strauss is breathtakingly expressive, it is only through the portrayal of Oscar Wilde's dark and sinister play that this opera becomes so powerful.
When and why did you decide to become an opera singer?
As an adult I discovered that I have a basic voice and I can sing. But always the idea of becoming a singer, (let alone becoming an opera singer) came only second to my pianistic ambitions! Partly because of the political climate in Iran at that time, and partly my own lack of confidence, the idea of becoming an opera singer seemed a very far-fetched fantasy indeed! Even during most of my college years l spent it advancing my piano technique, whilst spending quite a lot of time as being with other singers and singing teachers. Eventually I listened to the head of the voice faculty's advice and I changed to concentrate on singing and I am very grateful to her for that.
Any good tips to keep your voice in good condition?
Although rest is very good for the voice but I find that a quiet period of more than a week can have a negative effect on the whole singing mechanism. Also keep all the drama for the rehearsal room and the stage and when at home practice using your sweetest voice!!
What is your advice for budding singers?                                                                   
Listen to as much advice and comment about yourself as you can. Comparing the feedback and highlight the overlaps in criticism and praise and work on those points to build your confidence.
People might imagine that opera is a very serious business, even though there are some fantastic comedic moments in opera, do you have any funny anecdotes that you'd like to tell us?
I remember one day I was caught in traffic on my way to a performance of Bizet's The Pearl Fishers. I arrived just in time to change and go to stage. Part of my costume consisted of an Indian tunic with shalwar trousers.  During the famous tenor and baritone duet my eyes caught the chorus members who were laughing in the wings watching me on stage.  When the time came in the production where I had to sit cross-legged on the floor I suddenly realized that my trousers were missing! You can imagine my embarrassment, especially when I couldn't leave the stage straight away. Needless to say, from then on I always check my trousers before going to stage…